After Cancer
FECEC has studied the difficulties and needs of people who have survived or lived for an extended period with cancer. The After Cancer programme comprises education and awareness-raising, publications, activities, and services intended to improve the quality of people after cancer.
Education and awareness-raising
Digital space #despresdelcàncer (#aftercancer)
It is exclusively for people who have survived cancer or lived with it for an extended period. To address the lack of information about:
Public education talks
FECEC, Junts contra el Càncer organises public educational talks in different formats. They are intended for the general public, patients and family members of people living with cancer. Public education talks address different aspects of the disease, from prevention, to diagnosis, treatment and life after cancer.
These talks are delivered in person, online and via streaming on YouTube and Instagram Live.
A cycle entitled 'FECEC Dialogues: After cancer'
Conference 'Celebrate life after cancer'
A whole-day event to give a voice to people who have survived cancer, give visibility to their needs and make wider society aware of the difficulties faced by people after cancer. Through talks, conferences, roundtables featuring experts and patients and a range of activities, the event will provide information and give visibility to that reality and will combine amusement, learning and awareness-raising.
Summary of the 2019 event:
Cancer at Work
This service is aimed at businesses that want to adopt procedures to manage the impact of cancer within their organisations. Supporting workers affected by cancer (patients or carers) and minimising the impact on the rest of the organisation. Based on experience in the pilot project 'What to do when cancer comes to the workplace', the service offers:
Return, a work guidance service
A free work guidance service for people who have had cancer and are looking for a job that meets the physical and/or emotional needs arising from cancer.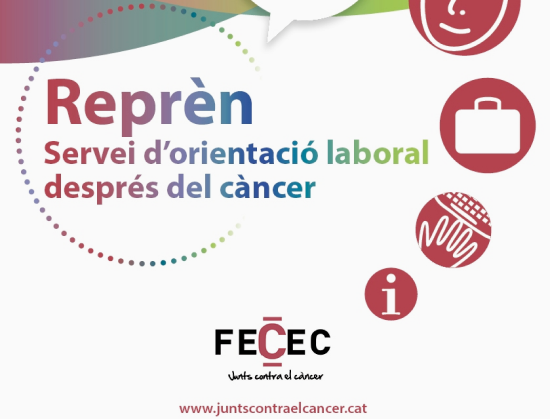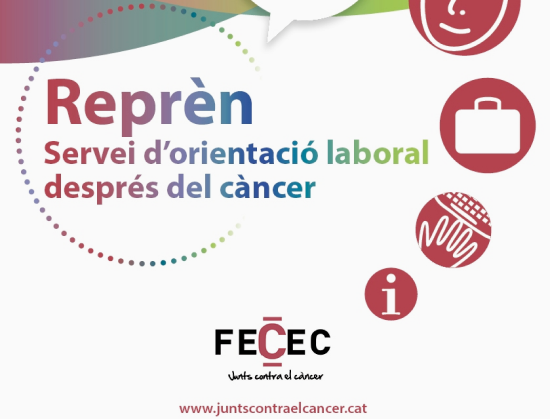 Legal advice
A legal advice service that advises on employment and social rights for people with cancer provided by Fidelitis, lawyers.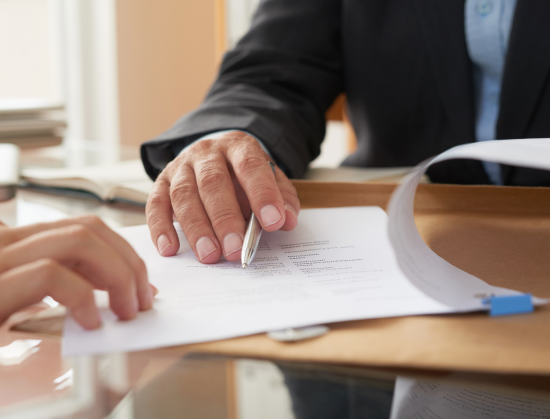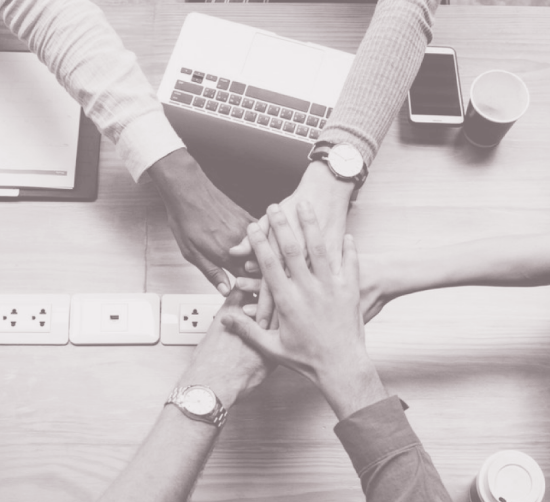 2022- Cancer and Work Scale for Catalonia
FECEC has supported the preparation of the first Cancer and Work Barometer for Catalonia, 2022. More than 1000 workers took part in this study so as to learn about workers' perceptions for the management of cancer in the workplace.
DOWNLOAD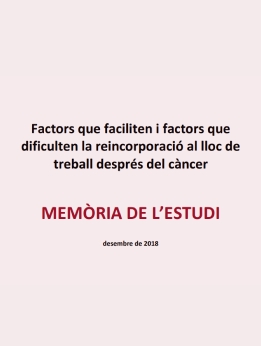 Factors that facilitate and factors that hinder the return to work after cancer
this research set out in this document, was undertaken at the behest of FECEC as a suite of projects aimed at exploring living with and surviving cancer and offering support to people who have survived cancer or are living with it in the long-term.
DOWNLOAD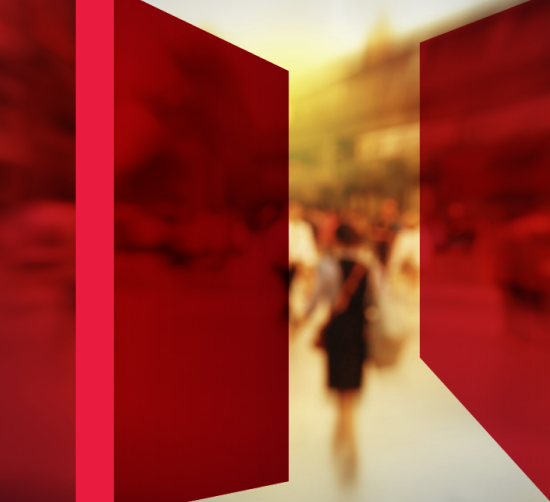 Study for improving the path back to work and rejoining the labour force for women who have had breast cancer
This study that brings together qualitative data concerning the situation of experienced, qualified women who do not find it all easy to return to work. The report recounts dismissals and situations where women have been forced out of their jobs, with work-related, financial and economic consequences.
DOWNLOAD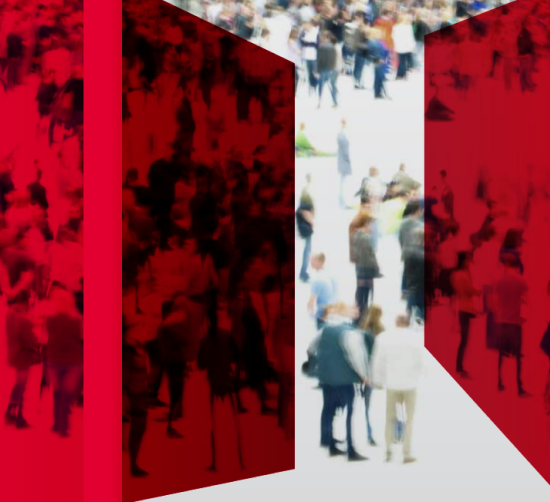 Improving the experience of Cancer Survivors in Catalonia
A study to increase knowledge and understanding of the needs of people who have had cancer, explore the lived experience of those affected and the healthcare professionals who look after them, and the experience of member organisations. Now it validates in our immediate environment the results of earlier studies.
DOWNLOAD